Welcome Back, Mr. Richard Ian Cox
Posted by: Anirevo Staff | July 7, 2018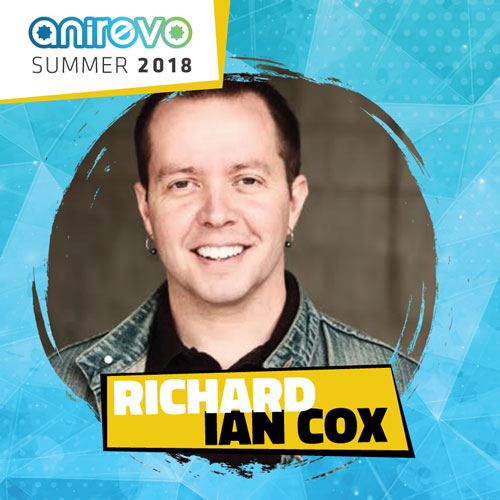 Anirevo is excited to welcome Richard Ian Cox back to Anirevo this summer!
Based in Vancouver, Richard Ian Cox is an actor, voice actor, comedian, and online radio host. He is the voice behind various characters, including Inuyasha (Inuyasha), Ranma Saotome (Ranma ½), Son Goku (Dragon Ball Z Kai), Allelujah Haptism (Mobile Suit Gundam 00), Ginpei (NANA), Normad (Galaxy Angel), and more.
Planned Programs*
Special LIVE Panel TBA
With Kappei Yamaguchi, Satsuki Yukino
Sat, Aug 4 at 6:00pm
Richard Ian Cox Variety Show
Fri, Aug 3 at 5:30pm
Scripted Chaos
With Clifford Chapin, Sarah Wiedenheft, ProZD
Sat, Aug 4 at 7:30pm
Meet & Greet
Special limited ticketed event. BUY NOW
Sat, Aug 4 at 1:00pm – 1:45pm
Autograph Sessions
Pricing: $10/item
Fri, Aug 3 at 1:30pm
Sat, Aug 4 at 11:30am
Sun, Aug 5 at 1:30pm
Photobooth Sessions
Pricing: $30
Fri, Aug 3 at 3:00pm
Sat, Aug 4 at 3:00pm
Sun, Aug 5 at 4:00pm
*Planned programs are still tentative and subject to change
Next to join the #Anirevo2018 lineup is voice actor @richardiancox! Can't wait to make more memories together this summer 😄✨ pic.twitter.com/mrjgj9nVeh

— Anirevo (@AnimeRevCanada) July 7, 2018

subscribe to get the latest news and deals from Anirevo. don't worry, we won't be sending any spam.