Kappei Yamaguchi as Honorary Guest at AniRevo: Summer 2018
Posted by: Anirevo Staff | April 20, 2018
2018 Guests
2018 News & Updates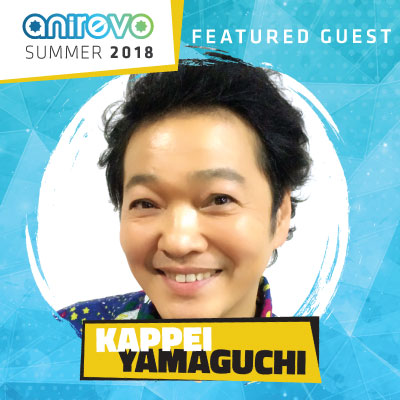 Anirevo is thrilled to welcome iconic voice actor Kappei Yamaguchi as a returning guest for Anirevo 2018!
Kappei Yamaguchi is a voice actor born in Fukuoka, Japan. He is known for being the voice behind various popular anime and game characters, such as Usopp (One Piece), Inuyasha (Inuyasha), L (Death Note), Shinichi Kudo & Kaito Kid (Detective Conan), Ranma Saotome (Ranma ½ ), Kuma/Teddie (Persona 4), Sabato Rokudou (RIN-NE) and more.
This year marks Kappei Yamaguchi's second visit as a guest at Anirevo, with his first appearance being at Anirevo 2013.
Planned Programs*
Live recording with Japanese Voice Actors
Sat, Aug 4 at 4:30pm
Special LIVE Panel TBA
With Satsuki Yukino
Sat, Aug 4 at 6:00pm
Q&A Panel
Sun, Aug 5 at 2:30pm
Meet & Greet
Special limited ticketed event. BUY NOW
Sat, Aug 4 at 1:00pm – 1:45pm
Autograph Sessions
Pricing: FREE
Fri, Aug 3 at 5:00pm
Sat, Aug 4 at 11:30am
Sun, Aug 5 at 12:30pm
Photobooth Sessions
Pricing: $30
Fri, Aug 3 at 6:30pm
Sun, Aug 5 at 11:30am
*Planned programs are still tentative and subject to change
Super excited to announce that voice actor Kappei Yamaguchi (@ENma_Dororon) will be joining us again this year for #Anirevo2018! Check out his greeting message! 😊 pic.twitter.com/BfRl9WX9l1

— Anirevo (@AnimeRevCanada) April 21, 2018

subscribe to get the latest news and deals from Anirevo. don't worry, we won't be sending any spam.