Anirevo is Super Excited to Welcome ProZD as a Guest
Posted by: Anirevo Staff | May 10, 2018
2018 Guests
2018 News & Updates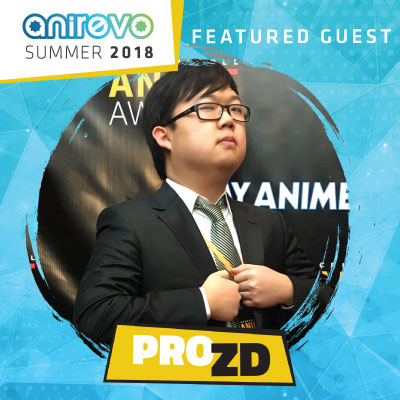 Anirevo is super excited to welcome ProZD to this year's summer convention!
ProZD is a YouTuber who is widely known for his voice acting done in video games. His YouTube channel became a popular outlet to showcase his Vine jokes and has featured videos of various tags and unboxings. In 2017, he also starred in Anime Crimes Division, a comedy series done in collaboration with Crunchyroll and RocketJump.
Planned Programs*
TBA Panel
Fri, Aug 3 at 2:00pm
Scripted Chaos
With Sarah Wiedenheft, Clifford Chapin, Richard Ian Cox
Sat, Aug 4 at 7:30pm

Creating Online Content for YouTube and Twitch


With Baylee Jae
Sun, Aug 5 at 1pm
Meet & Greet
Special limited ticketed event. BUY NOW
Sat, Aug 4 at 1:00pm – 1:45pm
Autograph Sessions
Pricing: FREE
Fri, Aug 3 at 3:30pm
Sat, Aug 4 at 4:30pm
Sun, Aug 5 at 3:30pm
Photobooth Sessions
Pricing: $30
Fri, Aug 3 at 5:00pm
Sat, Aug 4 at 5:30pm
Sun, Aug 5 at 2:30pm
*Planned programs are still tentative and subject to change
Follow his YouTube channel at ProZD.
I will be a guest at @AnimeRevCanada in Vancouver on August 3-5, 2018, it's my first Canadian con, hope to see some of you there

— SungWon Cho (ProZD) (@prozdkp) May 10, 2018

subscribe to get the latest news and deals from Anirevo. don't worry, we won't be sending any spam.