Sarah Wiedenheft Joins Anirevo 2018 Guest Lineup!
Posted by: Anirevo Staff | May 26, 2018
2018 Guests
2018 News & Updates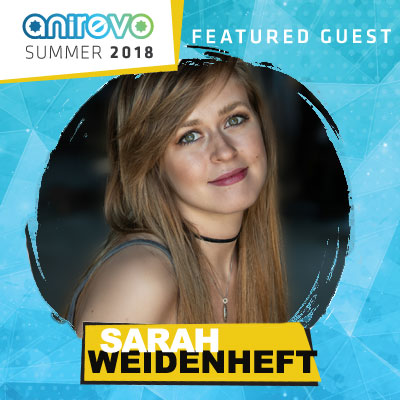 Sarah Wiedenheft is a North American voice actor most widely known for her role in Kobayashi's Dragon Maid as the lovable dragon Tohru. Her other roles include cute characters such as Aika Tenkubashi (Gonna be the Twin-Tail!!), Ruby Kurosawa (Love Live! Sunshine!!) and Popuko (Pop Team Epic). She grew up as an anime fan herself and her favourites are Sailor Moon, Dragon Ball, Card Captor Sakura and Inuyasha.

Planned Programs*
Sarah Wiedenheft Variety Show
Fri, Aug 3 at 1:00pm
Scripted Chaos
With ProZD, Clifford Chapin
Sat, Aug 4 at 7:30pm
TBA Panel
Sun, Aug 5 at 11:00am
Meet & Greet
Special limited ticketed event. BUY NOW
Sat, Aug 4 at 1:00pm – 1:45pm
Autograph Sessions
Pricing: $10/item
Fri, Aug 3 at 3:00pm
Sat, Aug 4 at 3:00pm
Sun, Aug 5 at 3:00pm
Photobooth Sessions
Pricing: $30
Fri, Aug 3 at 6:30pm
Sat, Aug 4 at 11:30am
Sun, Aug 5 at 1:00pm
*Planned programs are still tentative and subject to change

subscribe to get the latest news and deals from Anirevo. don't worry, we won't be sending any spam.