The vendor hall is an area in our exhibition hall where you may sell your official/licensed merchandise and/or market your products/services. If you are an Artist, please instead purchase from our
Artist Alley.
Please see the chart below to see which booth best matches your needs.
Rules, Definitions,
& FAQs
//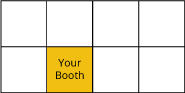 Intended for those with limited items for sale or those wishing to try out the vendor hall at a heavily discounted rate. Your booth will have booths on either side of you. In addition, you will be assigned a space at random.
*Note* - there is a limit of only 1 booth per vendor and can not be mixed with other booth purchases
Frequently asked questions
move in/out, hours,
& Location
//
Exhibition Hours
11am - 7pm
Exhibition Hours
11am - 7pm
Exhibition Hours
11am - 5pm
Vancouver Convention Centre WEST building
1055 Canada Pl, Vancouver, BC V6C 0C3, Canada
Show service
Decorator
//
To order additional tables or booth treatments, please contact:
Levy Show Service
210-12011 Riverside Way, Richmond, BC V6W 1K6, Canada
Ph: 604-277-1726
Toll Free: 1-800-699-0632
[email protected]
www.levyshow.com
CONVENTION SERVICES (EG. ELECTRICAL):
To order services from the convention centre (electrical, signage, cleaning, etc.) please follow this link here (for booth number, you may put TBA if you do not have one yet):
HERE
**PLEASE ORDER ASAP TO GET THE HIGHEST DISCOUNT FROM BOTH THE CONVENTION CENTRE AND LEVY SHOW SERVICE*
Badges can be picked up in the DEALERS HALL. Please do NOT go to the registration desk in the lobby. Please proceed straight to the dealer's hall. Your badges will be available there. Additional badges can be purchased for $50+gst.
Please bring your government-issued photo ID to collect your pass. Metered parking is available on site. Unloading of all merchandise must be through our loading docks on Thursday before the convention starts. Please make sure you add the @animerevolution.ca domain to your 'allowed senders' list. In the past, some of our emails have ended up in either SPAM or in PROMOTIONS tab of Gmail
If you still have any questions or concerns, please contact [email protected]