Satsuki Yukino as Honorary Guest at Anirevo: Summer 2018
Posted by: Anirevo Staff | April 26, 2018
2018 Guests
2018 News & Updates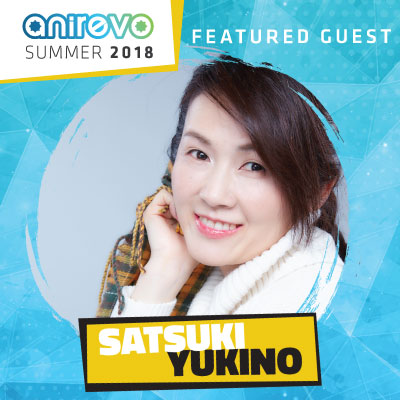 Anirevo is excited to announce that Satsuki Yukino will be joining as the third Japanese voice acting guest!
Born in Kyoto, Japan, Satsuki Yukino is a renowned voice actress who has lent her voice to over 150 anime series. She is most well known for her roles as Kagome Higurashi (Inuyasha), Yoruichi Shihōin (Bleach), Kaname Chidori (Full Metal Panic!), Tae Shimura (Gintama), Mutsumi Otohime (Love Hina), Milly Thompson (Trigun), Tamako (RIN-NE), and many more.
Planned Programs*
Live recording with Japanese Voice Actors
Sat, Aug 4 at 4:30pm
Special LIVE Panel TBA
With Kappei Yamaguchi
Sat, Aug 4 at 6:00pm
Q&A Panel
Sun, Aug 5 at 11:30am
Meet & Greet
Special limited ticketed event. BUY NOW
Sat, Aug 4 at 1:00pm – 1:45pm
Autograph Sessions
Pricing: FREE
Fri, Aug 3 at 6:30pm
Sat, Aug 4 at 11:30am
Sun, Aug 5 at 2:30pm
Photobooth Sessions
Pricing: $30
Fri, Aug 3 at 5:00pm
Sun, Aug 5 at 1:00pm
*Planned programs are still tentative and subject to change
Satsuki Yukino's blog (Japanese) & Twitter (Japanese)
アニレボ2018に参加する事になりました〜💖
8月のバンクーバー、超楽しみです❗️ https://t.co/OBytyGksqd

— ゆきのさつき(5/30〜6/3喫茶イレブン公演❗️) (@2011yukino) April 30, 2018

subscribe to get the latest news and deals from Anirevo. don't worry, we won't be sending any spam.