Baylee Jae Will be Back for Anirevo 2018
Posted by: Anirevo Staff | July 8, 2018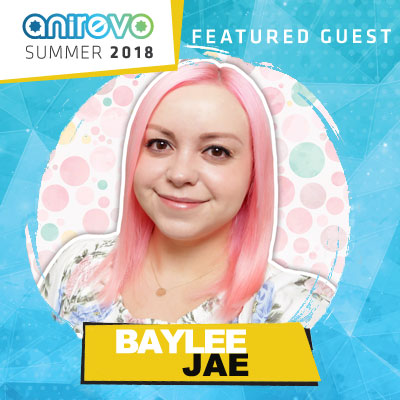 After joining us for Anirevo: Winter, we are thrilled to announce that Baylee Jae will be back for Anirevo 2018!
Baylee Jae is a YouTuber and illustrator living in Vancouver, BC. She earned a diploma in Animation Art & Design at the Art Institute of Vancouver and worked in the animation industry before choosing self-employment instead. To better showcase her art process, Baylee shares all kinds of art videos on her YouTube channel. Additionally, Baylee has a vlog channel where she documents her day-to-day life as an artist. Baylee also recently published her first book, Draw and Color the Baylee Jae Way, which features drawing lessons for aspiring artists.
Planned Programs*
Meet & Greet


Special limited ticketed event. BUY NOW
Sat, Aug 4 at 1:00pm – 1:45pm

Q&A Panel

Sat, Aug 4 at 6pm

Marker Colouring Demo with Bailey Jae

Sun, Aug 5 at 9am

Creating Online Content for YouTube and Twitch


With ProZD
Sun, Aug 5 at 1pm
*Planned programs are still tentative and subject to change
She joined us for Anirevo: Winter and now she's back for #Anirevo2018! We're excited to have @Baylee_Jae as a guest for us again this summer! 😁 pic.twitter.com/NCQ47mZFmM

— Anirevo (@AnimeRevCanada) July 8, 2018

subscribe to get the latest news and deals from Anirevo. don't worry, we won't be sending any spam.