TeddyLoid is Anirevo 2018 Musical Guest!
Posted by: Anirevo Staff | July 11, 2018
2018 Guests
2018 News & Updates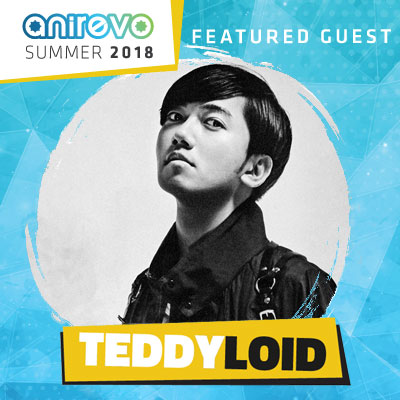 Anirevo is incredibly excited to welcome TeddyLoid as this year's musical guest!
TeddyLoid is a renowned Japanese DJ and music producer. He first began his path in music when he learned how to play the electric organ at the age of 2, which was then followed by his interest in beatboxing. When he was 18, he became MIYAVI's DJ and sound producer during his 2008 world tour.
TeddyLoid is well recognized by anime fans for working with ☆Taku Takahashi (m-flo) to produce the OST for Panty & Stocking with Garterbelt. He further expanded his career as he worked with Shibasaki Kou and DECO*27, Momoiro Clover Z for Neo STARGATE, as well as providing arrangements for the Gazette's album TOXIC. He is also known for providing BGM for Mekaku City Actors. We look forward to welcoming TeddyLoid to Vancouver this summer!
Planned Programs*
Akiba Night Rave
Sat, Aug 4 at 10:00pm
Meet & Greet
Special limited ticketed event. BUY NOW
Sat, Aug 4 at 1:00pm – 1:45pm
Autograph Sessions
Pricing: FREE
Fri, Aug 3 at 6:00pm
Sat, Aug 4 at 4:30pm
Sun, Aug 5 at 12:00pm
*Planned programs are still tentative and subject to change

subscribe to get the latest news and deals from Anirevo. don't worry, we won't be sending any spam.