Hitomi Nabatame as Anirevo Summer 2018 Honorary Guest
Posted by: Anirevo Staff | April 13, 2018
2018 Guests
2018 News & Updates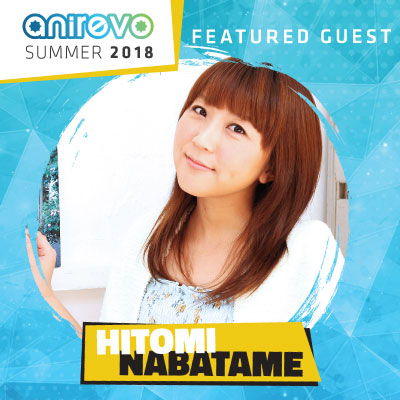 Anirevo is excited to announce voice actress Hitomi Nabatame as the first guest for Anirevo 2018!
Born in Yokohama, Japan, Hitomi Nabatame is a Japanese actress, voice actress and singer. Some of her most notable roles include Nanao Ise (Bleach), Yukiji Katsura (Hayate the Combat Butler), Margery Daw (Shakugan no Shana), Mikoto Suou (School Rumble), Saori Makishima (Oreimo), Bazett Fraga McRemitz (Fate/kaleid liner Prisma Illya 2wei Herz!), and Rokumon (RIN-NE).
Planned Programs*
Live recording with Japanese Voice Actors
Sat, Aug 4 at 4:30pm
Q&A Panel
Fri, Aug 3 at 4:00pm
Sun, Aug 5 at 5:00pm
Meet & Greet
Special limited ticketed event. BUY NOW
Sat, Aug 4 at 1:00pm – 1:45pm
Autograph Sessions
Pricing: FREE
Fri, Aug 3 at 5:30pm
Sat, Aug 4 at 3:00pm
Sun, Aug 5 at 2:00pm
Photobooth Sessions
Pricing: $30
Sat, Aug 4 at 11:30am
Sun, Aug 5 at 3:30pm
*Planned programs are still tentative and subject to change
Our first guest for #Anirevo2018 is Hitomi Nabatame! Please join us in welcoming her to Vancouver this summer ✨😄

Stay tuned for more announcements coming soon! pic.twitter.com/VOz7Sik63S — Anirevo (@AnimeRevCanada) April 13, 2018
Hitomi Nabatame's blog (Japanese) & Instagram.

subscribe to get the latest news and deals from Anirevo. don't worry, we won't be sending any spam.