Posted by: Anirevo Staff | May 26, 2016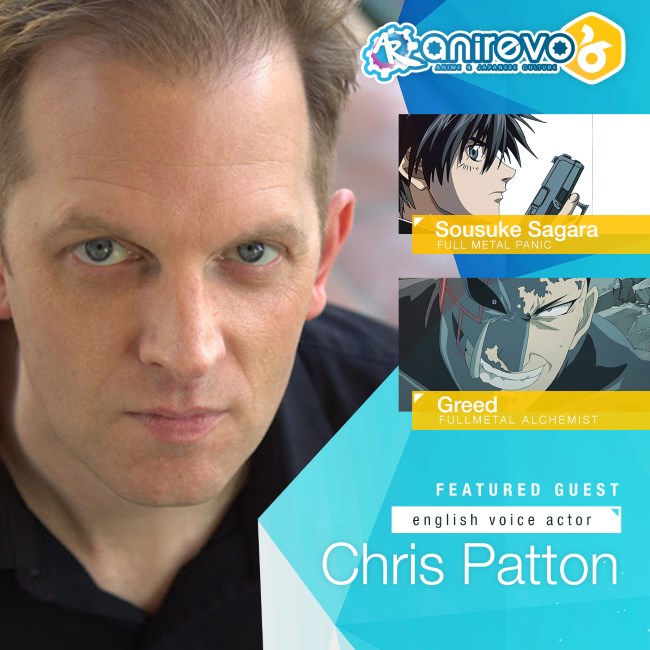 We're proud to welcome Chris Patton, voice of Sousuke Sagara from Full Metal Panic and Greed from Full Metal Alchemist, to Anirevo 2016!
Chris Patton has been voice acting for seventeen years, including over 220 Anime titles for FUNimation, ADV, Sentai Filmworks, and Okratron 5000, including Black Bullet (Rentaro), Akame Ga Kill (Run), Hamatora (Moral), Soul Eater (Asura), Full Metal Panic (Sousuke), Fullmetal Alchemist (Greed), Ghost Stories (Hajime),The World God Only Knows (Keima), Kids on the Slope (Kaoru), Welcome to the NHK (Sato), Guyver (Sho, Guver), Nerima Daikon Brothers (Ichiro), Princess Tutu (Fakir), and Pokemon XY (Sanpei).
Chris has also voiced over 120 audiobooks, (including the award-winning Yesterday's Gone and The Dorito Effect) a ton of commercials, a handful of video games, corporate narration… and all those other things Voice Actors do! Also a life-long theatre nerd, Chris recently appeared as Leon Czolgosz in Stephen Sondheim's Assassins, and directed the regional/Houston premiere of Green Day's rock musical American Idiot.

subscribe to get the latest news and deals from Anirevo. don't worry, we won't be sending any spam.