Romi Park to attend Anirevo 2016
Posted by: Anirevo Staff | May 12, 2016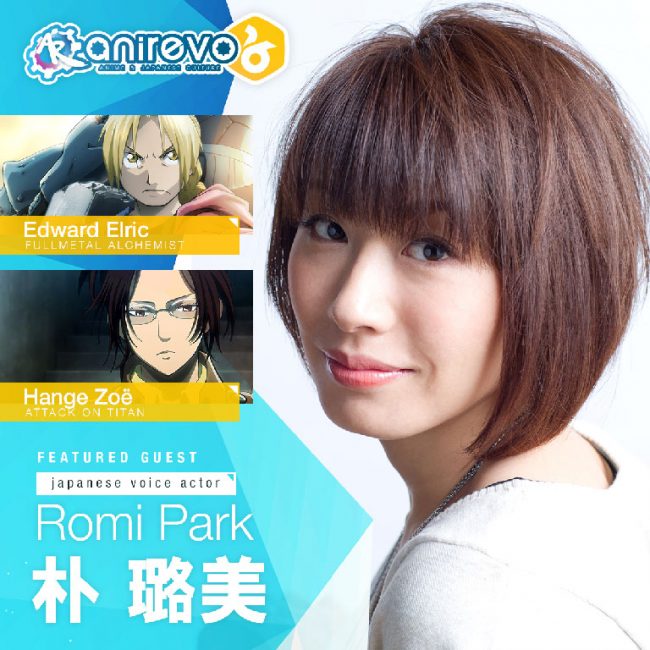 We're proud to announce Romi Park to attend Anirevo 2016! Come meet the voice of Edward Elric from Full Metal Alchemist, (as well as several other popular roles)!
From Wikipedia
Romi Park (朴 璐美 Paku Romi) is a Korean-Japanese voice actress, and singer born in Edogawa, Tokyo. Though born, raised and living in Japan, her nationality is Korean since her family decided to remain Korean for the last two generations since their coming to Japan. She graduated from the Tōhō Gakuen College of Drama and Music, and studied Korean language in Yonsei University's Korean Language Institute (한국어학당). At the first Seiyu Awards, she won "Best Main Character (female)" for her portrayal of Nana Osaki. Her most well-known roles are usually tough, calm, and mature preteen or teenage boys who are often called prodigies in their fictional universes (for example, Tao Ren, Tōshirō Hitsugaya, Edward Elric, and Natsume Hyūga). Her female roles also fit the "tough/punk lady" archetype (Temari from Naruto, Nana Osaki and Teresa in Claymore).
Trailer for Japanese drama film Akaboshi, starring Romi Park.

subscribe to get the latest news and deals from Anirevo. don't worry, we won't be sending any spam.