Toshihiko Seki to attend AniRevo 2016
Posted by: Anirevo Staff | May 8, 2016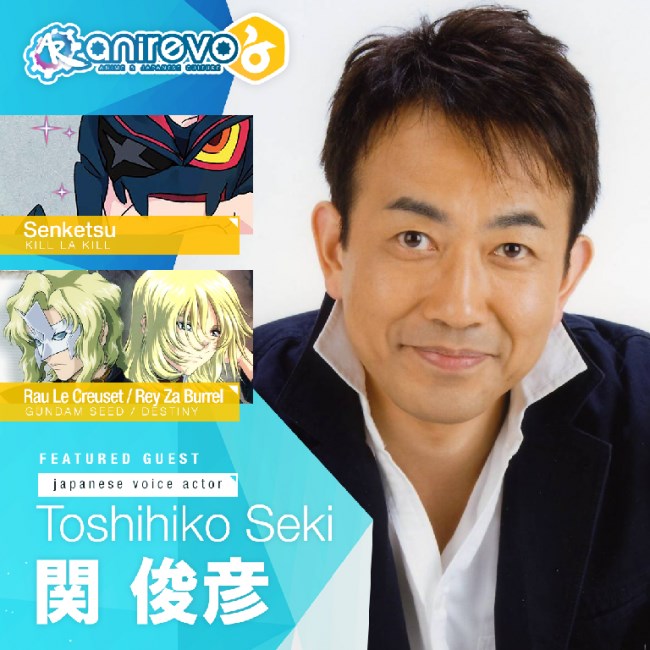 We're proud to announce Toshiko Seiki to attend AniRevo 2016! Come meet the voice of Senketsu from Kill La Kill, (as well as several other popular roles)!
From Wikipedia
According to the Anime News Network as of early August 2007, Seki Toshihiko is one of the more prolific male voice actors with 215 roles credited to his name. He is tied with voice actors Tomomichi Nishimura and Nobuo Tobita.

In June 2004, Toshihiko was honored by the readers of Animage Magazine in the 26th Annual Reader's Poll, where he was ranked the 9th favorite voice actors currently working in Japan, largely in recognition of his performance as Rau Le Creuset from Mobile Suit Gundam SEED.

Toshihiko tends to mostly voice characters who are very serious or easily agitated, e.g. Ougi Takaya in Mirage of Blaze, Sanzo in Saiyuki, Jōtarō and Bleed Kaga in Future GPX Cyber Formula, Duo Maxwell in Mobile Suit Gundam Wing, Iruka Umino in Naruto, Kaien Shiba in Bleach and Momotaros in Kamen Rider Den-O. However, he has also played those who are composed and pleasant (Luva, Ru Baraba Dom). On some occasions, he has also played charming sociopaths: (Legato Bluesummers, Rau Le Creuset).

subscribe to get the latest news and deals from Anirevo. don't worry, we won't be sending any spam.