Ayumi Fujimura to attend Anirevo 2016
Posted by: Anirevo Staff | May 6, 2016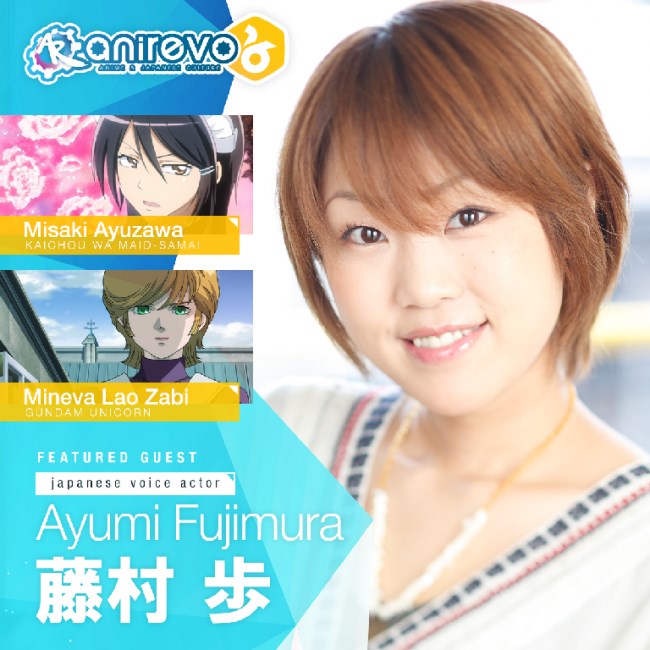 We're proud to announce Ayumi Fujimura to attend Anirevo 2016! Come meet the voice of Mineva Lao Zabi from Gundam Unicorn, (as well as several other popular roles)!
Born in Tokyo, Ayumi Fujimura is a veteran in the shoujo anime world having over 150 roles in her experience. She has voiced characters from your classic deredere-type to tsunderes and is known for her wide range of voices. She is most well-known for voicing Ayuzawa Misaki (Kaichou wa Maid-Sama), Mineva Lao Zabi (Gundam Unicorn), young Natsume Takashi (Natsume Yuujinchou), and  Kannagi Ayano (Kaze no Stigma). She is also known by her alias, Kurosaki Neko, is affiliated with Ken Productions, enjoys playing with the hula hoop, and is an avid cat-lover. Anirevo welcomes Ayumi Fujimura for her first visit to Canada!
Ayumi Fujimura as Masami Utoku / Maccha Green in The Rolling Girls

subscribe to get the latest news and deals from Anirevo. don't worry, we won't be sending any spam.