Exhibitor Registration
PRESS
$525
Limit: One
Table Qty/Size: One – 8′
Decoration:
Skirted/Draped
Assignment: Random
Position: Press Lane
Passes: 1
Space: 10′ x 10′
VALUE
$695
Limit: One
Table Qty/Size: One – 8′
Decoration:
Unskirted/Undraped
Assignment: Random
Position: Lane
Passes: 1
Space: 10′ x 10′
PREMIUM
$895
Limit: None
Table Qty/Size: One – 8′
Decoration:
Skirted & Draped
Assignment: Priority
Position: Lane
Passes: 3
Space: 10′ x 10′
CORNER
$1195
Limit: None
Table Qty/Size: One – 8′
Decoration:
Skirted & Draped
Assignment: Priority
Position: Corner
Passes: 3
Space: 10′ x 10′
END CAP
$2095
Limit: None
Table Qty/Size: Two – 8′
Decoration:
Skirted & Draped
Assignment: Priority
Position: End Cap
Passes: 6
Space: 10′ x 20′
Positions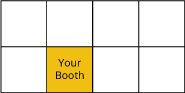 Lane
Your booth will have
other booths on both sides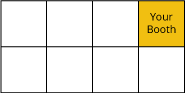 Corner
Your booth will be at
the end of a row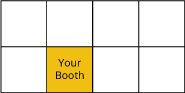 Press Lane
Your booth will have
other booths on both sides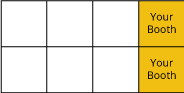 End Cap
You will have 2 booths
at the end of the row
Frequently Asked Questions
Why are certain booth limited?
In order to maintain a fair and maximum variety exhibitor hall, we must enforce limits for certain booth types. As we expand each year, we will work to increase those limits.
What does table size and space mean?
Your table size (measured in imperial) represents the length of the table provided to you. The space provided is the total area you are assigned to be in.
What does decoration mean?
This is how your booth will look with the treatments we offer. For a more visual representation, please take a look at the examples provided below.
Dates, Hours, Location
Day 0
Thursday, 08 Aug
1:00 PM
Exhibitors Move In
8:00 PM
AniRevo Closes
Day 1
Friday, 09 Aug
8:00 AM
Exhibitors Move In
11:00 AM
Hall Opens
7:00 PM
Hall Closes
Day 2
Saturday, 10 Aug
10:00 AM
Exhibitors Restock
11:00 AM
Hall Opens
7:00 PM
Hall Closes
Day 3
Sunday, 11 Aug
10:00 AM
Exhibitors Restock
11:00 AM
Hall Opens
5:00 PM
Exhibitors Move Out
8:00 PM
AniRevo Closes
Day 0
Thursday, 02 Aug
01
08
0 0
PM
0 0
PM
Exhibitor Move In
8hours 00 min

Anirevo Closes

Exhibitors must exit

Day 1
Friday, 03 Aug
08
01
08
0 0
AM
0 0
PM
0 0
PM
Exhibitor Move In
5 hours 00 min

Hall Open
5 hours 00 min

Hall Closes

Exhibitors must exit

Day 2
Saturday, 04 Aug
10
11
07
0 0
AM
0 0
AM
0 0
PM
Exhibitor Restock
1 hours 00 min

Hall Open
8 hours 00 min

Hall Closes

Exhibitors must exit

Day 3
Sunday, 05 Aug
11
05
08
0 0
AM
0 0
PM
0 0
PM
Hall Open
6 hours 00 min

Exhibitor Move Out
7 hours 00 min

Anirevo Closes

Attendees must exit

Vancouver Convention Centre – West Wing
1055 Canada Place
Vancouver BC V5X 1X1
Forms
Fire Regulations
Electricity Form
Move-in & Move-out
Guidelines​
Personal Services
Guidelines​
Personal Services Application Form
Product Preparation Information Sheet
Directions to Loading Zone
Other Notes & Contact
Please bring your government issued photo ID to collect your pass.
Metered parking is available on site.
Unloading of all merchandise must be through our loading docks on the Thursday before the convention starts. Please make sure you add info@animerevolution.ca and dennis@animerevolution.ca to your 'allowed senders' list.
In the past, some of our emails have ended up in either SPAM or in PROMOTIONS tab of gmail
If you still have any questions or concerns, please contact dennis@animerevolution.ca